Previously considered a far-reaching figment of our imagination, an exciting premise for the plot of a futuristic science fiction film or novel, artificial intelligence is now very much part of our present-day reality. Today, several AI tools are proving helpful for all kinds of businesses by handling complicated tasks or simplifying them for their workforce, saving significant costs and time.
In the world of 3D design, AI has emerged as the revolutionary champion, simplifying complicated processes and manual tasks for 3D designers everywhere. From concept design to 3D modeling to 3D texturing, traditionally, the notably complex process of generating 3D models required multiple skilled professionals, multifarious stages of work, and several software applications. 3D texturing itself is a time-consuming and highly specialized task. Until now, it has been a specialized job for trained 3D texturing artists and not just 3D designers who know how to use 3D modeling software.
Nextech3D.ai has introduced the next-generation 3D design platform: Toggle3D - a self-serve AI-powered 3D design studio on the web. With its AI technology, Toggle3D is disrupting the conventional 3D texturing process by simplifying it to the extent that those without the technical expertise can create 3D textures and apply them to 3D models.
It's as simple as plug and play, all you have to do is upload the product's CAD files, select your color, PBR material, and lighting preset from the thousands pre-loaded into Toggle3D's library and with just a few clicks, your high-quality, perfectly textured 3D models will be ready, thanks to the power of AI.
Let's dive deep and understand the conventional process for making textures for 3D models and how AI is simplifying this time-consuming task.
What is 3D Texturing?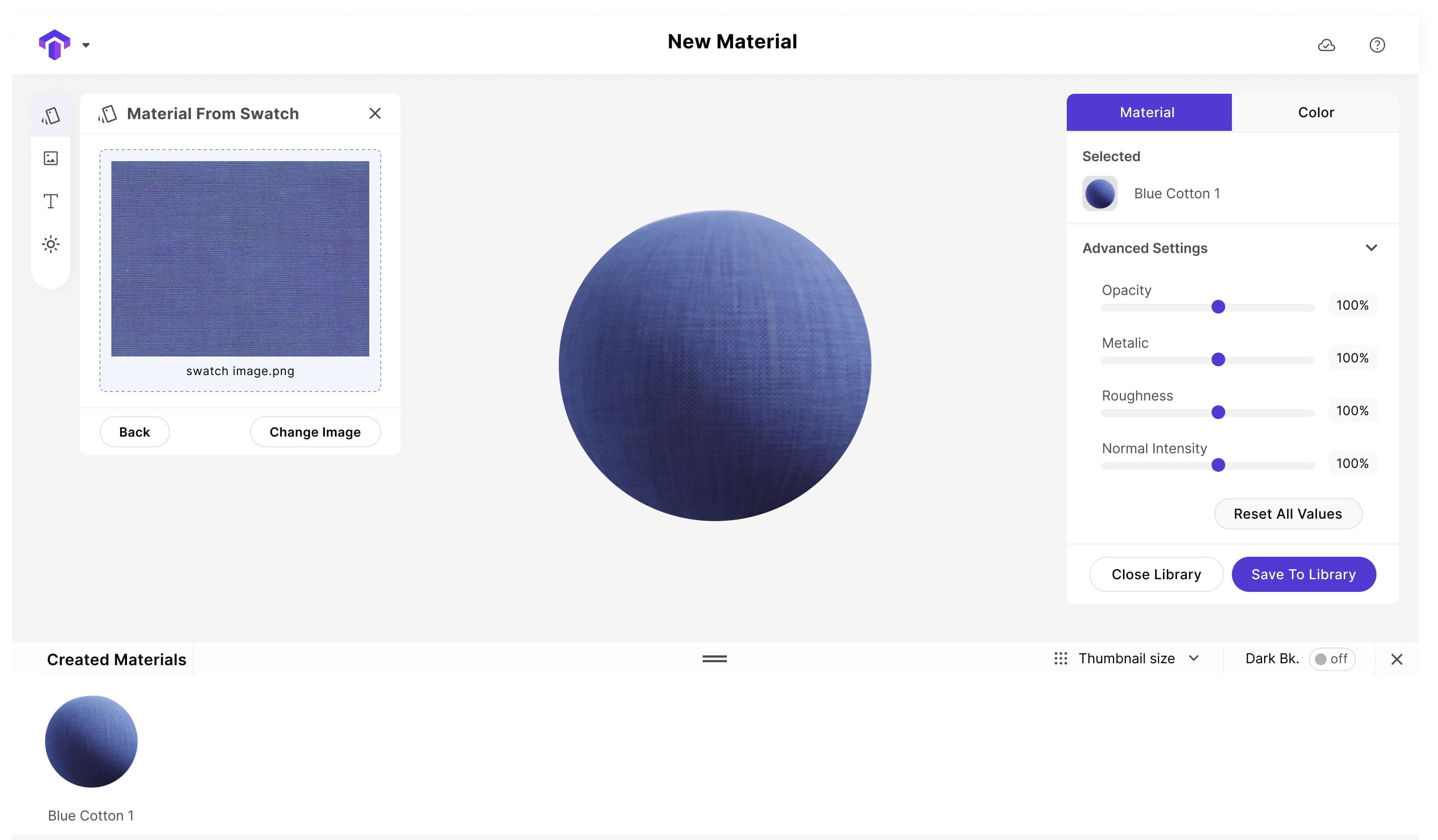 3D models are usually created in a design program's default flat gray color. 3D texturing is the process in which you create 3D textures (from pictures or scratch), add them in layers to a 3D model, light the 3D model, and give it some finishing touches or special detailing. It's as if you are 'clothing' a 3D model and preparing it for a photoshoot.
Generally, texturing artists create 3D textures and apply them onto a 3D mesh. Their goal is to ensure that the surface of a 3D model is similar to its real-world counterpart or concept art design.
For example, if a 3D model is required to have a rock-like surface, the texturing artist must ensure that when the model is rendered, the 3D rocky surface has colors and surface properties that are identical to a real-world rock. And if the real-world object has a polished metal surface, its 3D model should have that precise shiny, metallic look.
What Is the Importance of 3D Texturing?

Real-world products or objects are rarely monochromatic, gray, and perfectly smooth. Their appearance and surface properties are key in shaping our perception of them through visual and tactile sensations. A realistic 3D representation of a product's appearance and its interaction with light is necessary for its credibility and attractiveness. In 3D environments, surface textures give viewers a feel or sense of substance about a product. Viewers should be able to determine what a product is composed of simply by glancing at its 3D model or may subconsciously reject a product. Therefore, a product or 3D design can never be complete without imparting surface properties to the 3D model. And that is why 3D texturing is crucial in product design and 3D design in general.
Until recently, just knowing how to use 3D modeling software wasn't enough to create detailed, realistic, and high-quality 3D textures and apply them accurately to 3D models. Trained 3D texturing artists have used unique apps other than 3D modeling software to get satisfactory outputs. But now, the cutting-edge AI technology of Toggle3D has eliminated the necessity to learn any special 3D texturing tool or assign a skilled 3D texturing artist for this crucial job.
How Is 3D Texturing Done Conventionally?

In a conventional setting, a 3D texturing artist takes the following steps to create texture for 3D models:


1. UV Mapping & Unwrapping
The texturing artist first unwraps the 3D model by unfolding its 3D mesh. Then, they create a UV map for every individual 3D object in the finished 3D model received from the modeling department. UV maps are flat representations of a 3D model's surfaces. They are used to wrap textures onto the 3D model by linking the 2D image of a texture to the vertices of the mesh's polygon. The generated map can be used to texture and shade the 3D model.
Unwrapping 3D models in the texturing process is almost always required. 3D design apps provide tools or techniques to unwrap 3D models, but most unwrapping is done by the texturing artist by hand, which takes a lot of time.


2. Texturing & Shading
A texture is generally a 2D image. Several apps offer different tools and processes to help texturing artists create 3D textures for 3D models. A texturing artist can use photos of real-world surfaces or hand-painted ones to make textures for 3D models that are detailed and realistic in appearance. Or they can directly create the texture virtually using 2D design software such as Photoshop. However, the process is extremely tedious and laborious. Procedural texturing is a more advanced way to create 3D textures that are difficult to create by hand--Texturing and shading cause 3D surfaces to interact with light the way they do.


3. Lighting & Rendering
The processes of texturing, shading, lighting, and rendering rely on one another. Rendering is a process in which various maps assigned to a 3D model's shader, and lighting, are calculated. Hence, a texturing artist must choose their texture mappings according to the render engine they will be using at the production stage's conclusion.
The final output delivered by the texturing artist is the fully textured and lit version of the 3D model they received from the modelers.
However, there is a new and incredibly fast way of generating intricately textured 3D models using artificial intelligence, and anyone can do it - with Toggle3D.
Discover how AI can simplify 3D Texturing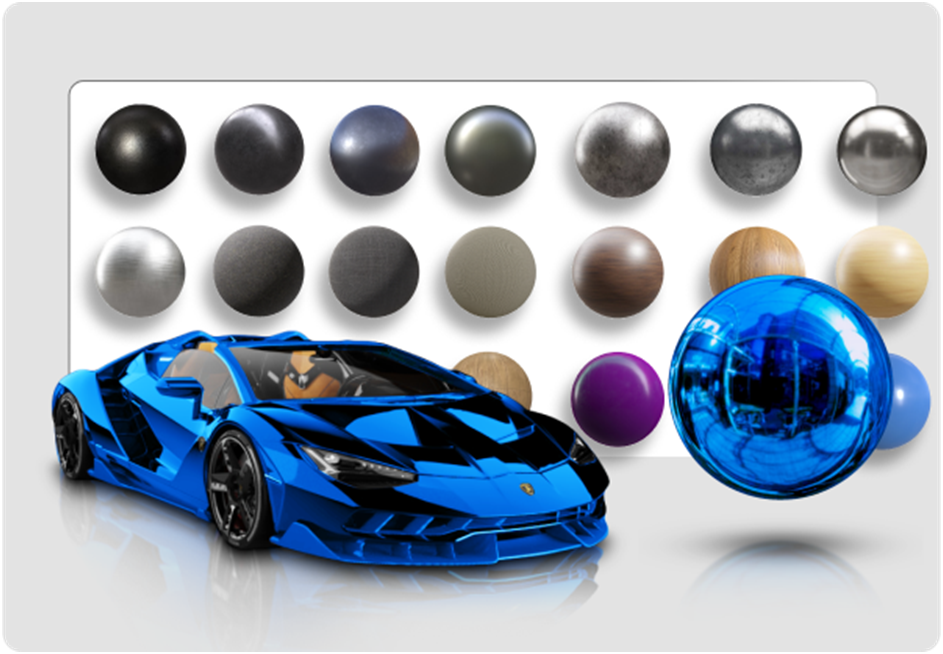 Toggle3D by Nextech3D.ai is a web-based 3D design studio for not just 3D modelers or texturing artists but anyone – including product developers and even marketing executives who might want to give their feedback on a product's design. It's a revolutionary, easy-to-use 3D modeling software that uses AI to create 3D models that are not only web-friendly but also AR-friendly.
By making the most of the latest breakthroughs in AI, this point-and-click software is changing the product design industry and bringing the future closer than ever.
Here's how simple the AI-powered 3D texturing process on Toggle3D is:
Import the CAD file of your product's design into Toggle3D.

With just a 'click,' the machine learning algorithms in Toggle3D convert the CAD file into poly, providing the options of both triangular and quad typology. The AI converts it into a web-friendly and AR-friendly model in seconds.

Choose from the plethora of options of 3D textures already available in the pre-built library of over 1000 PBR materials.

Or create your own PBR material by uploading a photograph of a real-world surface and the software's AI 3D texture generator will create your custom PBR material and apply it to your 3D model all by itself.

Repeat the previous step to apply as many materials as you want to your 3D model.

Add lighting presets from the pre-built library to complete the 3D texturing process.
Toggle3D, with its brilliant use of AI for 3D texturing, can save you a remarkable amount of cost and time in the process of product design.
Click here to try Toggle3D and experience the magic of AI for 3D modeling for yourself.
Advantages of using Toggle3D for texturing & 3D design

Toggle3D is disrupting the traditional 3D design industry by using AI to convert CAD files and create 3D textures and AR designs with its intuitive interface. Here are some of the benefits of switching to Toggle3D for designing 3D models:

1. Eliminating the Need for Multiple Apps


Users can convert, customize, texturize, and share their 3D designs – all in one place. Toggle3D can be your one-stop solution, eliminating the need for multiple software packages.



2. Easy Sharing and Feedback
Toggle3D helps create a smooth workflow by allowing users to share projects with colleagues, other departments, and stakeholders for feedback so everyone's input can be incorporated before the final design is published.

3. Providing A Better Perspective Through Augmented Reality
The 3D models designed on the app are generated with their own unique QR codes for AR designs that allow you to place them in real-world spaces using your smartphone's camera. It's all done online without the need for you to download anything on your smartphone.

4. Offering Scalability
Toggle3D makes 3D design creation not only easy and accessible but also exceptionally scalable due to its incorporation of fast and efficient AI for 3D modeling.

5. Saving Costs and Time
Toggle3D eliminates the need for excessive manual work in the 3D design process by practically applying breakthrough technology in artificial intelligence, machine learning, and computer vision and helping designers achieve in minutes, an output that would otherwise require hours. This allows companies and 3D designers to spend dramatically less money and time on 3D generation and product design.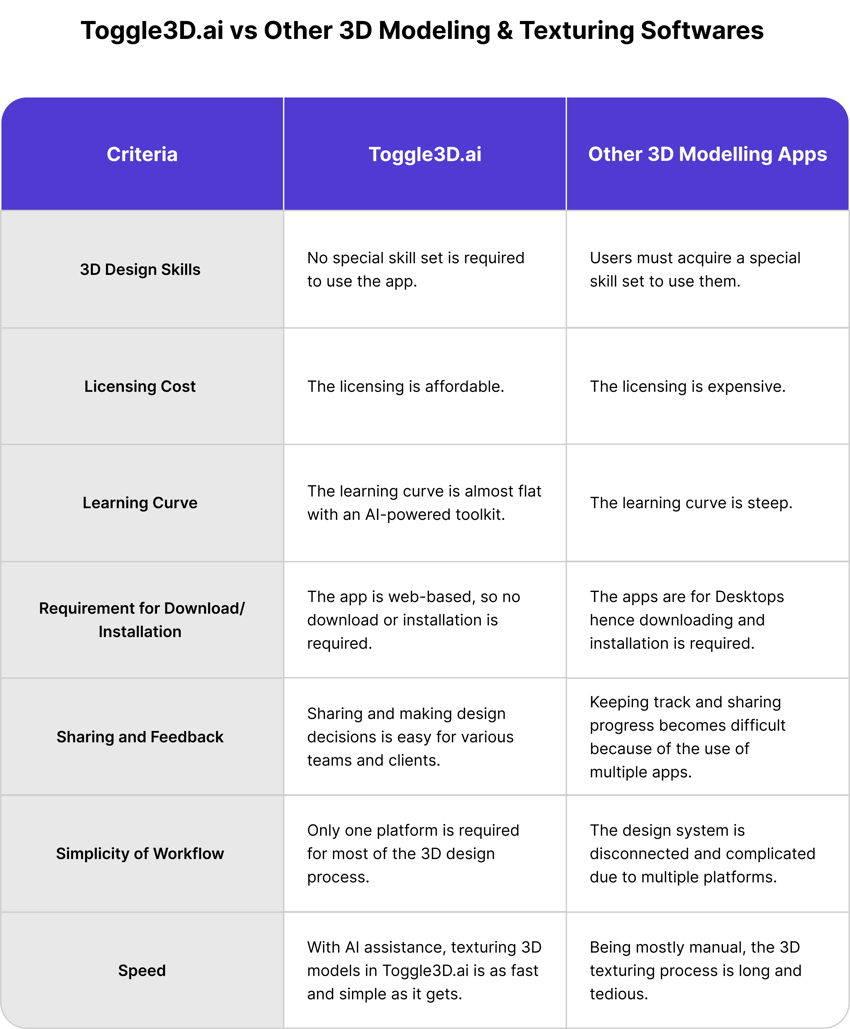 The emergence of Toggle3D with an AI 3D texture generator has increased the accessibility of 3D and AR designs. It's now possible to create 3D textures that are as professional and realistic as those designed by experienced texturing artists effortlessly without any special 3D design skill set. Upgrading to the easy-to-use 3D modeling software promises to make the lives of 3D designers, interior designers, landscape artists, product development engineers, online game designers, and anyone else who may need 3D or AR models so much easier.
Click here to learn more about Toggle3D.
For professional use, to generate photorealistic, unlimited 3D designs, subscribe to the pro version, which uses advanced technology like machine learning, computer vision, and AI to convert 3D models and apply photorealistic textures.