The recent breakthroughs in artificial intelligence (AI) are transforming the world we're living in. Generative AI tools like ChatGPT are heralding a whole new tech revolution in almost every field of work. If AI can write poems and paint pictures of people who never existed, there is no doubt that it can take a 3D model designing to new heights. The extent to which we benefit from these technological advances now depends on our willingness to learn new AI-powered tools and leverage them to improve our work in terms of speed, quality as well as simplicity.
Toggle3D.ai is dedicated to making the most of cutting-edge AI technology in the field of 3D and AR design. With its game-changing web-based design studio, 3D designers can now make their lives remarkably easier – by directly tapping into the power of breakthrough AI for 3D model designing.
But before we see how, let us clearly understand the conventional 3D modeling and texturing process and its problems which cost a substantial amount of money as well as time.
The Design Process With Old-School 3D Model Design Software

The biggest challenge is working with not just one but multiple design tools involved in the conventional design process, which requires laborious and complicated steps.
3D Modeling
Trained 3D modelers use conventional 3D design software like AutoCAD to create the basic 3D model, i.e. the geometrical structure, of the product they have to design.

3D Texturing
The 3D modeling team sends the designed 3D model to specially skilled 3D texturing artists who are trained to use multiple 3D texturing tools to give the 3D model its surface properties. They include materials, colors, textures and finishes, which give the 3D model its lifelike appearance.

Lighting and Rendering
The 3D texturing artists then add a virtual environment and lighting to the 3D model to give it the appearance that the real-world product would have, creating shadows and shining on various surfaces. The 3D model is then rendered to produce the final output.

Conversion Into AR/VR/Web-Friendly Formats
The 3D model rendered and exported by texturing tools usually isn't in an AR/VR/web-friendly format. It has to be converted into a format that is compatible with the platform where the 3D model will be displayed for purposes like presentation and marketing. This too requires a separate tool.
The Problem With Using Traditional 3D Design Software

The main problem with the conventional 3D design process is quite clear: the complexity of the workflow. There are simply too many different platforms and trained design specialists required for one 3D model to reach its completion. The process of converting a CAD file to an AR/VR/web-friendly format itself requires as many as 6 different platforms. Consequently, there are multiple software installations and file conversions required when transitioning from one platform to another. The result is greater costs and hundreds of hours spent to achieve quality output.
The Design Process With Toggle3D: Your
AI-Powered 3D Design Platform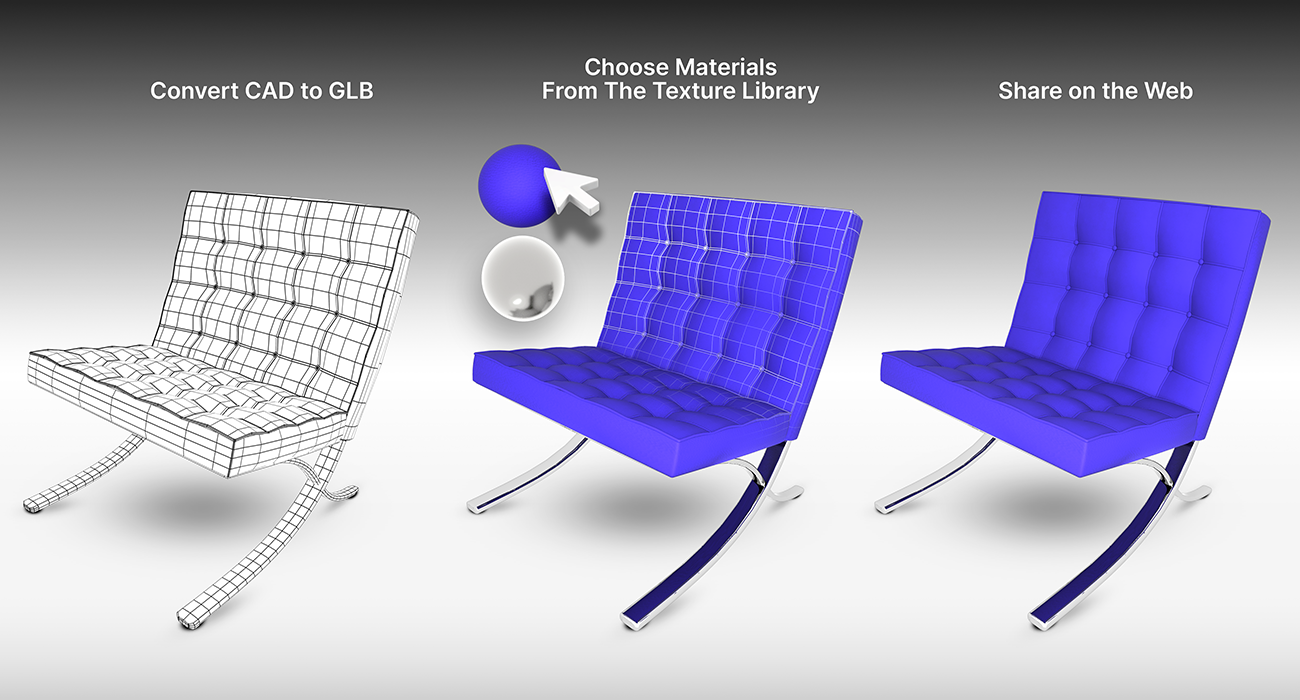 Toggle3D.ai is disrupting the 3D design industry by harnessing the full potential of AI to make the 3D design process easy, scalable and accessible to an extent that was inconceivable before now. Toggle3D enables not just skilled 3D designers and texturing artists but even graphic designers and non-designers to design stunning 3D and AR models with a few simple clicks on its intuitive point and click interface.
Here is the astonishingly simple process for designing, customizing and publishing using this AI-powered, web based 3D design software :
Import your CAD files to Toggle3D.ai's web-based platform : Toggle3D.

With the click of a button, the software will automatically convert, UV unwrap and prepare your file for 3D web design. The result is a stunning 3D mesh that is web-friendly and up to 95% lighter than heavy CAD files. Using conventional design software this process would require a 3D designer to work on almost 5-6 platforms.

Directly add surface properties like materials, colors and textures to the 3D models, never bothering about the tedious process of UV mapping. Textures can be added just by selecting suitable options from Toggle3D's vast prebuilt library or by simply clicking and uploading photos of real objects. The AI-powered software then directly converts the JPEG files into a photo-realistic PBR material, all by itself.

Add lighting, render and export the 3D models in a file format that can be seamlessly integrated into platforms like websites and mobile apps. Toggle3D even generates a QR code for every 3D model, enabling webAR viewing with even a regular smartphone.
How Toggle3D Erases The Drawbacks Of Conventional 3D Model Designing Software

With Toggle3D anyone can be a 3D designer, anyone. Regardless of their prior experience in 3D modeling or lack thereof, a user can complete the entire 3D design process from start to end on the Toggle3D platform alone. This just isn't possible with design tools that don't use advanced technology like machine learning, AI and/or computer vision for 3D design. This not only saves costs and time, but also makes it easy to share 3D and AR models. Being entirely web-based, the app eliminates the need for any software installation at all. Moreover, it eliminates the need for multiple file conversions and back-and-forths with skilled texturing artists by making the design workflow easy enough for anyone to conduct on their own. All this is achieved by simply making use of AI for 3D designs.
The Exceptional Advantages of Making Toggle3D Your 3D Design Software

When it comes to the reasons for using Toggle3D, having a one-stop 3D design solution is just the tip of the iceberg! The ground-breaking SaaS software platform has been making waves in the industry for not one but several reasons.
Here are the many more noteworthy benefits of using Toggle3D as your go-to 3D model designing software:
Intuitive Design Interface
Toggle3D can be used even by individuals with no special 3D design skill set or training to design state-of-the-art 3D models of products, all thanks to AI technology. Here's a testament to the fact, a review by a product manager who used the platform for 3D modeling : "Overall Toggle3D is very user friendly, and it's very easy to understand all the features."
No Storage Space Is Required
Being completely web-based, the app saves all your projects on its cloud and consumes no storage space on your hard drive.
Texturing Is Easier Than Ever
On this platform, textures can be directly added to 3D models, without the need for any manual UV unwrapping. Toggle3D has a versatile and extensive pre-built library of materials to choose from for customizing your designs.
3D Modeling Becomes Dramatically Scalable
This web based 3D modeling software is a highly scalable solution for 3D modeling and texturing due to its speed and simplicity.
Stunning 3D Output for Multiple Applications
With a vast collection of 4K 3D textures ready at the user's fingertips Toggle3D delivers impeccable, high quality 3D designs. One CAD input file can be used as a source of endless possibilities to increase a team's productivity in 3D by unlocking the power of 3D for multiple applications like e-commerce, product presentations, product marketing and more.
It Has Valuable Marketing Applications
The web-friendly 3D models designed using this smart 3D model designer can be used extensively for product marketing.

It Is Cost-Effective
The online 3D design software has accessible pricing models that are affordable for small businesses and individual 3D designers as well.
Click here to experience Toggle3D for free. The free 'trial' version allows you to work on as many as 3 projects. The pro version allows you to design 3D models made of finer quad meshes instead of the triangular ones available in the free version for high-fidelity 3D models.
The merging of 2 worlds of AI and 3D design has opened up amazing new possibilities for 3D designers, interior designers, product managers, AR game designers and a plethora of businesses - small, big, old and new. Now is the right time to make AI tools your full-time assistants. Count on Toggle3D.ai to make the biggest upcoming innovations in AI technology for 3D design work wonders for you.