At a glance:
In the realm of design and innovation, technology has continually pushed boundaries and revolutionized various industries. One such technological advancement that has proven to be a game-changer is 3D product modeling. With its ability to bring ideas to life, streamline the design process and enhance communication, 3D modeling is set to become an indispensable tool for design teams in the future. In this blog post, we will understand the importance and future of 3D design across industries. Let's get started!
Firstly, What is 3D Design?

3D design refers to the process of creating three-dimensional digital models and visual representations of objects, environments or concepts. It involves using specialized software to construct virtual models that can be manipulated and viewed from different angles, providing a realistic and immersive experience.
Unlike traditional 2D design, which is limited to two dimensions, 3D design technology adds depth and spatial dimensions to the creative process. It allows designers to explore the intricacies of an object or environment, considering factors such as lighting, texture, scale and perspective. By leveraging the power of 3D design software, designers can bring their ideas to life with a level of realism and detail that was previously unimaginable.
3D design finds applications in various fields including architecture, product design, animation, video games, virtual reality, etc. It offers immense benefits such as enhanced visualization, improved communication and streamlined production processes. Ultimately, 3D design technology enables designers and creators to push the boundaries of imagination, innovation and creative expression.
Benefits and Applications of 3D Design Technology

Immersive User Experience:
One of the primary reasons why 3D design is gaining momentum is its ability to offer immersive user experiences. Unlike traditional 2D design, 3D design technology allows users to interact with digital content in a three-dimensional space, providing a more realistic and engaging experience. Whether it's exploring virtual environments, trying out virtual prototypes or experiencing virtual reality (VR) and augmented reality (AR) applications, 3D design enables users to delve into a world of endless possibilities.
To learn how AI is revolutionizing customer experiences in the retail industry, read this.
Enhanced Visualization and Communication:
Thereafter, 3D design technology plays a pivotal role in enhancing visualization and communication in various industries. For architects and interior designers, 3D models allow clients to visualize spaces and designs accurately, even before construction begins. This leads to better decision-making, increased client satisfaction and reduced project risks. Similarly, product designers can create realistic 3D prototypes that accurately represent their vision, facilitating effective communication with stakeholders and potential customers.
Efficiency and Cost-Effectiveness:
Another compelling reason why 3D design is the future lies in its potential to improve efficiency and cost-effectiveness. With 3D modeling and rendering tools, designers can quickly iterate through multiple design concepts, identify flaws and make necessary adjustments. This iterative process significantly reduces the time and resources spent on physical prototyping, allowing for faster product development cycles. Moreover, the ability to detect and rectify design flaws early on helps minimize costly mistakes during the manufacturing or construction phase.
Personalization and Customization:
The rise of 3D printing technology has opened up exciting possibilities for personalization and customization across various industries. Whether it's personalized fashion accessories, custom-designed furniture or tailored medical implants, 3D design empowers individuals and businesses to create unique and personalized products. This trend is particularly evident in the consumer goods and healthcare sectors, where 3D product design enables mass customization, catering to the specific needs and preferences of each individual.
To learn how to create 3D product images for Amazon listings, read this.
Entertainment and Gaming:
The entertainment and gaming industries have been at the forefront of embracing 3D design technologies. The realistic graphics, lifelike characters and immersive virtual environments created through 3D design technology have revolutionized the gaming experience. From blockbuster video games to virtual reality experiences, 3D design has become an integral part of the entertainment landscape, captivating audiences and pushing the boundaries of creativity.
Medical and Healthcare Advancements:
The impact of 3D design in the medical and healthcare fields cannot be overstated. With the help of 3D modeling and printing, medical professionals can create patient-specific anatomical models, surgical guides and implants. This technology has transformed surgical planning, enabling surgeons to practice complex procedures beforehand, reducing risks and improving patient outcomes. Additionally, 3D-printed prosthetics and assistive devices have provided affordable and customized solutions for individuals with disabilities, improving their quality of life.
Architectural and Urban Planning:
In the realm of architecture and urban planning, 3D design has revolutionized the way buildings and cities are envisioned and developed. Architects can create detailed 3D models of buildings and urban landscapes, allowing for better visualization and analysis of spatial relationships. This technology aids in efficient space utilization, sustainability assessment and urban development planning. Additionally, stakeholders and policymakers can experience virtual walkthroughs of proposed projects, fostering better decision-making and public engagement.
Future of 3D Design
The impact of 3D design technology has been transformative, revolutionizing various industries and unlocking new possibilities. Looking ahead, the future of 3D design holds immense potential. However, it also faces challenges that need to be addressed for its widespread adoption. Some of these include:
Technological complexity poses a barrier, as specialized software and hardware can be intimidating and costly.

Bridging the skills gap through comprehensive training programs is crucial to cultivate a broader talent pool of 3D designers.

Compatibility and interoperability issues hinder collaboration and exchange of 3D assets.

Intellectual property protection in the digital realm requires robust frameworks.
Overcoming these challenges will involve simplifying tools, lowering costs, offering training programs and optimizing overall performance. By addressing these barriers, we can pave the way for a future where 3D design is accessible, efficient and widely utilized in various industries.
Shaping the Future: Importance of 3D Modeling for Design Teams

As the design landscape evolves, embracing 3D design technology is no longer an option but a necessity for design teams. As mentioned earlier, from visualizing ideas and streamlining the design process to enhancing collaboration and integrating with manufacturing, the benefits of 3D modeling are numerous. In essence, the future of 3D design holds the promise of increased automation, personalized design experiences and even more efficient design workflows.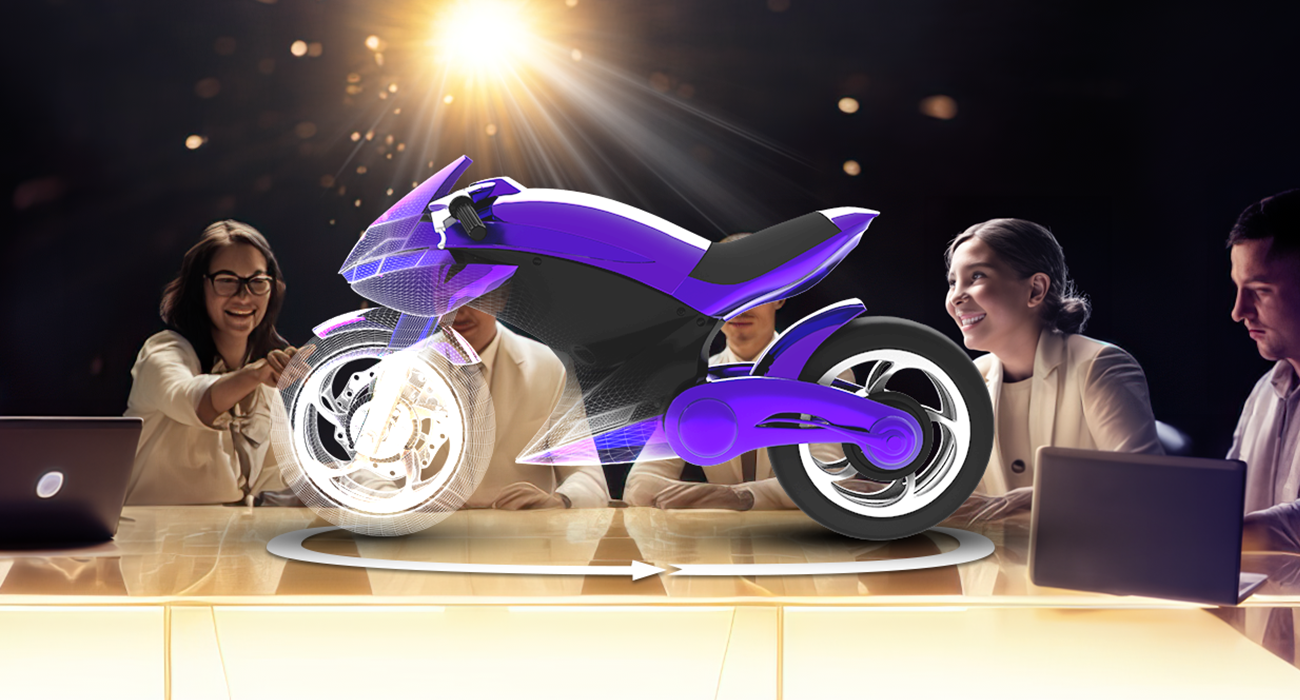 Research suggests, for about 33% of designers, 3D is the next step in their natural career progression. By enabling designers to visualize and refine their ideas in a virtual environment, 3D design software paves the way for groundbreaking designs and solutions. As design teams embrace the power of 3D modeling, they will position themselves at the forefront of innovation and ensure their relevance in an ever-evolving design landscape.

Conclusion


The potential of 3D design - bridging the gaps between innovation, imagination and realization, sets the stage for a transformative journey. Its impact on industries, society and the way we perceive and interact with digital content will continue to shape our world for years to come.
About Toggle3D.ai by Nextech3D.ai

A 3D Design Studio on the Web
Import your CAD file, add materials to your model and share your high-quality 3D visualization in no time! No 3D design or technical experience is required.
Key Features and Benefits of Toggle3D.ai:


Make Prototypes Come to Life: Change colors, textures and finishes in real-time as you design and engage with the model in 360 degrees before even manufacturing.

Enhanced Collaboration: Collaborate in the medium you are creating which allows for easier communication about design changes in a remote environment.

Save Time and Cost: Repurpose the same 3D model for design iterations, product promotions, or presentations before ever building it saving both time and money.

How Does It Work:
Step 1: Import CAD or 3D file
Step 2: Add materials from our pre-built library or make your own
Step 3: Add multiple material options to the same 3D model
Step 4: Share!
To learn more or book a free trial of Toggle3D.ai - the ultimate design studio for 3D design, click here.